Meatheads pulling their ass around the parking lot and parking on the curb. Flying and weaving through cars like no one elses business, then mouthing off behind a window as you give them the stink eye. And shit, does Hollister have to soak the store walls in it's awful cologne? That stuff smells like rotten pachoulli.

I think big crowds of tourists/blithering idiots/other Americans takes my personality, rapes it and then bolts it back in. I'm usually a calm, laid back, accepting guy, but today I found that if you stick me around certain people for 6 hours I will become a racist, loudly-swearing jerk off. At least I had some fun playing with an ASUS EEEPC.


I hate Florida. The number one tourism spot in America, and I live in the middle of the two major spots. I went out to Orlando today to lookit some big outlet mall I'd never been to.. What a fucking mistake. People everywhere, the big stupid white trash shitheads who act like they don't see you and keep walking, and then get upset when you bang them with your shoulder walking by. The bickering foreigners screaming at each other in some foreign language (primaryly, Spanish) wearing their shitty matching outfits. I hate you Thing #4.
FUCK YOU MADAGASCAR YOU ALWAYS CLOSE THAT ONE SEA PORT NO ONE VISITS BUT 10 TIMES IN 30 MINUTES
WHY WONT YOU FUCKING DIE MY VIRUS IS LIKE 10 TIMES BETTER THAN YOU
FUCK YOU I HAVE BOILS, FEVER AND DIMENTIA YOU WOULD DIE OF INSANITY!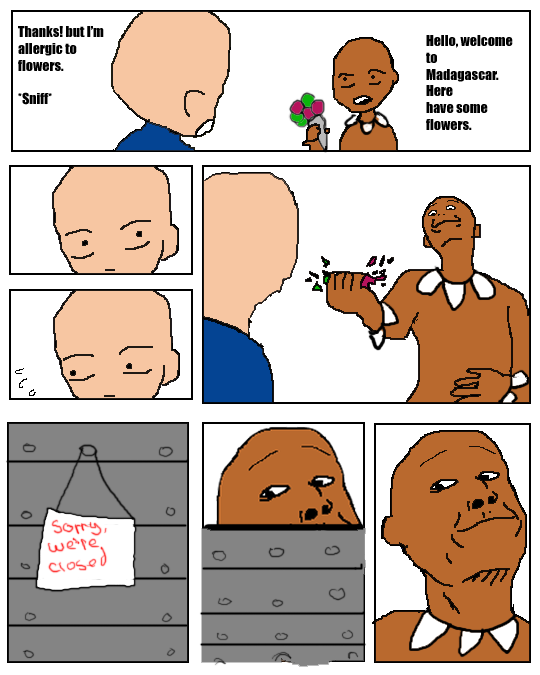 BUT INSTEAD YOU DO THIS
FUCK MADAGASCAR AND FUCK SEAPORTS
RAGEPOST


Every genre has its bullshit though, some worse than others. Rap, hip hop, rhythm and blues, drum and bass and rock all take a particularly hard hit in this area with a new shoddy artist jumping out at society every 4 hours. All of the former are bogged down with paltry lyrics littered with swearing and absolutely no artistic/emotional meaning, so a lot of people turn away from it. I used to be this way with rap and hiphop, before I heard some Tupac and Kanye.

It's more like poetry from them, instead of the "supahman dat ho bitch, for shit, I wagon pot and love guns, I'm so ballin" shit that gets put out, and people flock to for some reason. The mouth breathers of rock are generally located in "punk" and metal bands with the amazing skillful style of bre singing who seem to worship hatred and fighting the machine with ear raping double bass probably conceived by Cthulhu himself for their righteous cause. Bre sounds like someone screaming through a sheet of aluminum foil lubricated with a bottle of crisco. Try it out!

This isn't a "why I hate some kinds of music" rant though, this is a rant about why I love all kinds of music. Every good thing that can be grouped in the world generally has a shitty side to it, that gets more attention than the good. Unfortunately that's how things work. SO FUCK YES MUSIC! :3
Music is an awesome thing. I'll probably make a million of these posts, but shit do I love music. Each genre has a potential for greatness I've finally realized. I'd like to think during highschool I've gone through a never-ending musical journey. It started with me thinking "old music is and always will be the best music.". Turns out Eurythmics and Tears For Fears got pretty old pretty fast. I moved onto old and modern rock like Metallica, Black Sabbath and Nine Inch Nails. After that I was introduced to Daft Punk, and the movement began for me. Ever since I've found one electronic artist I like through another, and I don't think it will ever stop. Just recently I've picked up Kanye West's "Graduation" and thoroughly enjoy it.
Current Music:

Kanye West "Flashing Lights"


What? This is confusing. Since when does the status of someones being a virgin or not have anything to do with them being capable of being your friend? You're deflowered and suddenly you're better than anyone who hasn't gotten it on? What a hoot. I don't care, it doesn't bother me. I'm just so confused as to how these thoughts run through peoples head and they finish thinking "Yeah, that make sense, me stick to that. UGH!". I asked what that was about, and after trying to use some sorry circlular reasoning to try and make me believe, they just said "it's a girl thing." Maybe there is a reason I'm partial to guys? I still don't know D:>

Just a LOLWUT? moment for me today. :S
I was with some odd people today. My friend, his girlfriend and one other gal. I've never met his girlfriend, or this other girl, but I've seen them around with their respective boyfriends. I don't know why I hung around with them, probably just because no one else was in the student center eating lunch. I just sat around occasionally talking to them as they did their girl chat while Stefan interjected with that silly English accent of his. And through bits of the conversation I heard his girlfriend say she won't be friends with anyone who is a virgin, because they talk about sex a lot, and she thinks they're stupid because they don't know what they're talking about. That she can't stay on the same level as them in a conversation or friendship emotionally.


I wonder if things will be different tomorrow?
Today is much different from any other day in my life guiz. I gotta go to work nao and when I come home I gotta study for a math test :D I'm so excited that things are different today


[13:41] Santamooze: In fact thats pretty much what they are. Tiny lobsters that live in the swamps.
[13:41] evilbugz: D:
[13:41] Santamooze: TASTY
[13:41] evilbugz: Like crawdads?
[13:41] evilbugz: :3
[13:41] evilbugz: MUDKIPS?
[13:41] Santamooze: Well you can call them that too :3
[13:41] evilbugz: OH FUCK YOU SANTAMOOSE
[13:41] evilbugz: I KNOW WHAT YOU WANT D:
[13:41] Santamooze: Mudbugs, crawdads, mud --
[13:41] Santamooze: HAHAHA
[13:41] Santamooze: o.o
[13:41] evilbugz: NO I WILL NOT SIT IN THE HOT TUB
[13:41] evilbugz: xD

It is pot shaped because I had it custom made, its a southern thang ya'll. :3
Mmmmm mudbugs

Last night I received a notice from my bank that I was being fined for a bounced check... it was strange, I don't usually write checks unless I'm sure I'll have money by the time it goes through. So it turns out, it's because of PayPal, and my lack of knowledge when it came to using it.

I withdrew $25, and then again sent $25 without knowing what I was doing. So dammit PayPal, be more clear about this when you sign me up for your wonderful sneaky service!

What a day. I've been having anxiety attacks for some reason and I'm not sure why.. I did good on my test, the bank issue is solved. (I was given a one time courtesy NSF refund. Yay!) Oh well. I'm home where I can snuggle in my bed, it's cold outside. And its also almost April. Sheesh!
Current Mood:

anxious


Why, just today I miserably failed an algebra test because I THOUGHT I knew the material from earlier in the week. But I didn't do my studying. I payed attention in class, but I guess it didn't stick. I feel like a real fucking idiot sometimes when I'm completely ignorant to everything around me like this. I just can't seem to get it in my head that if I do not graduate (this grade WILL determine the outcome of that), I will get to spend the rest of my days not professionally repairing computers or developing software, but bagging groceries for the guy who has my once-future job. I won't last too long mentally knowing that.

Oh fucking well. Enough of that shit before I start getting suicidal or something. Another wonderful point in my day was when I came home from work tonight. Apparently someone on WoW sent my brother a message asking him how it was going here in town. Neither of us know this person (I don't remember them from when I used to play.) and it scared the hell out of my brother to the point where he was crying. I gave the guy some shit for a moment but he ignored my brothers character.. hopefully thats the last of that.

The good news is, PayPal finally verified my bank account. The whistle goes like WOO-WOOOOOO.
Today, I hate the hell out of myself. I tell myself, over and over, I'm going to do this. Today, I will get that job done. But I never do. I always put it off or something distracts me. A month ago I got very involved in working out to get in shape. I haven't been on a bike ride in a week, I haven't taken a protein dosage in a week, I haven't done any of it. It's because I have no fucking resolve, and it's just that simple. I can practically apply this everywhere else in my grand life, too. I can't start a relationship with anyone I'm interested in, I never study for an upcoming test despite how little I know the material.
Current Mood:

stressed


It doesn't suprise me, though, that my fellow classmates struggle with the simplest of reading concepts. Despite all of our work to increase their vocabulary skills, the only thing I hear come out of a majority of their mouths is jargon about what who said about who, "so gay" "super mad-homo, dude." and "Like, I know." Like, how do you seriously like you know, talk like that? Did you like, not pay attention in like, your English courses beforehand? I understand though, they were SOOOOO GAAAAY! AUUUGGGHHHHH FUCK MY HEAD EXPLODES WHEN THEY SPEAK!

THE BEST THE BEST THE BEST THE BEST THE BEST THE BEST THE BEST THE BEST THE BEST THE BEST THE BEST THE BEST THE BEST THE BEST THE BEST THE BEST THE BEST THE BEST THE BEST THE BEST THE BEST THE BEST THE BEST THE BEST THE BEST THE BEST THE BEST THE BEST THE BEST THE BEST THE BEST THE BEST THE BEST THE BEST THE BEST THE BEST THE BEST
Despite my session of crazy on Monday, which seems like nothing now, this is proving to be an uneventful week. Hell, the rest of this year school-wise is going to be a bore. I'm in a remedial reading skills class to get rid of a didnt-give-a-shit F, and all of the other students have to take the FCAT this week. Thats Florida's Comprehensive Assessment Test. I've never had trouble with it as it always seemed like common sense, but in the last year where I was required to take it, they told me I had to take a prep class or I wouldn't graduate. I said "Bullshit and fuck you kindly" and used that period to sleep. Fact of the matter was the school was on the verge of being shut down... they needed the passing grades! HA!


Especially electronica. These days it seems to be getting ahold of more and more people, it's not "just a geek thing" anymore. Clubs, raves, even bars I've gone to recently have been playing it in one form or another. Is it due to the continued development of higher quality and more powerful computers and instruments? Are more people just saying "Hell, I don't need an album label to get my tracks out there."? I wish I was among them, but as much as I'd like to think I have any musical talent outside drumming, I doubt I would produce anything good.

A lot of people agree though that Paris is to electronic music/artists like China is to engineers. I think Parisians swallow imagination and silicon, and shit brilliance. Seriously. Daft Punk, DJ Mehdi, Justice, all recent artists to emerge from Paris and become immensely popular.

It looks like electronic music has a real future in the world, as long as the world itself remains intact. We can only hope!
Music is the best thing ever. In every infinity beyond always. EVER! :D
Current Music:

Human After All - Daft Punk